---

Three Five Compounds (III-V Compounds) is a major supplier of optoelectronic semiconductor material (chips and wafers for LED and Laser diode) with a production facility in Asia and sales office in North America.

Since the establishment of the company in 1996, III-V recognize the importance in offering products that are easy to read on the spec and allow the flexibility for the design engineers at the design stage, and with a strong team of support engineers that could offer and make recommendations when a specific application is present to us at the design or application stage, III-V is rapidly expanding it product lines, from LED and laser epi material, raw dice and packaged lamps for application in general electronics to telecommunication and medical sensor. The services provided by III-V Compounds are tailored to meet each individual Customerís needs. Customers value our flexibility and high quality product and on JIT delivery service.

Medical and military companies worldwide as well as traffic and automotive Clients have approved our strict quality control. Our company strategy is to provide competitive cost products while maintaining the highest quality standard to meet customersí satisfaction.
Three-Five Compounds maintains its excellent reputation as an optoelectronic semiconductor component supplier and will continue to grow and expand by providing products that are tailored to meet each individual custom application, superior in quality and competitive price.

With the main sales office in New York, III-V maintains its network of distributors and Sales Representatives throughout North America and Europe.

All of our Sales Representatives have extensive knowledge in the semiconductor field. Whether a medical sensor or board assembly, please contact us and we will have an Application Specialist contact you within 24 hours.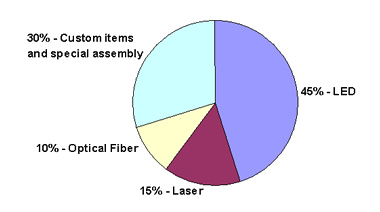 The III-V factory is conveniently located in the center of Hou Jie China, an approximately 2 hours bus ride from the Hong Kong International Airport. The factory has over 6000 square meter of production floor and now has employed over 400 workers.

Our factory is ISO 9001-2000 qualified and we follow the strictest quality procedure to assure that the products leave our factory is defective free. We are currently working towards to achieving the 6-sigma QC policy.
Research and development has been an area where III-V focuses its growth and achievement. In the past years, working with its customer, III-V has successfully introduced a color sensor that can achieve the complete Pantone color chart utilizing a color combination of RGB LED. Now III-V closely with its customers are in the process of introducing new products that utilize LED to detect medical illness and photodynamic treatment for skin disease.